A POTTED HISTORY OF 3D SHARK - OUT OF NOWHERE, 3D SHARK'S DEBUT SINGLE "YOU ONLY DID IT COS) PETE MAJOR" B/W "SHORT BACK AND SIDES" MAKES AN IMMEDIATE IMPRESSION AND REACHES *14 IN THE CHARTS.
FOLLOW UP "OUTING TO ALBANIA" B/W "(THEME FROM) 3D SHARK" CAPITALISES ON THIS UNEXPECTED SUCCESS AND GIVES THE BAND IT'S FIRST TOP 10 HIT EHEN IT GOES TO *5. "SICK NOTE" B/W "JOE SUMMER" BECOMES HUGE AND HITS *1 AS PEOPLE CANNOT GET THE CHORUS OUT OF THEIR HEADS. IT EVENTUALLY BECOMES THE SONG THEY MOST HATE AS FANS ARGUE THAT THE B SIDE WAS BETTER THAN THE A SIDE.
APPEARANCES ON TELEVISION SHOWS GRAHAM NORTON AND JONATHAN ROSS BRING 3D SHARK RIGHT INTO THE MAINSTREAM. NOW HOUSEHOLD NAMES, THERE IS TALK ABOUT CRACKING AMERICA. LACKING ANY FURTHER RECORDINGS THE BAND RETURNS TO THE STUDIO, BUT PRODUCER FRANKIE CAN'T GET THEM OFF HIS SOFA TO DO SOME WORK, DESPITE VARIOUS THREATS, MANY OF A SEXUAL NATURE, GUITARIST MAJOR RESPONDS BY STORMING OUT, BUT IN HIS EMOTIONAL STATE TRIPS AND FALLS DOWN THE STAIRS WITH HIS TREASURED RICKENBACKER, RESULTING IN A BROKEN ARM AND BRUISED EGO.THE GUITAR IS FINE. THE BAND MUST WAIT FOR HIS RECOVERY BEFORE ANY FURTHER RECORDING AND TOURING. MOMENTUM IS LOST.
IN THE MEANTIME SINGER, ELLIOTT, BASSIST REILLY STEWART AND DRUMMER HICKS TWIDDLE THEIR THUMBS AND COUNT THEIR MONEY.  AFTER A HIATUS OF A YEAR, AND DESPITE A BLAZE OF PUBLICITY INCLUDING A NUDE BAND PHOTOSHOOT WEARING ONLY HOODS , THEIR NEXT SINGLE "MYSTERY MAN" B/W "SCALE OF HASTE" FALLS SHORT OF ITS INTENDED MARK REACHING *4. THIS DISAPPOINTMENT IS SOMETHING OF A 3D SHARK WATERSHED.
AFTER A LONG TIME IN THE STUDIO, A MASSIVELY OVER PRODUCED "SUNSHINE STRIDE" B/W "THIS IS NOT CANADA" PROVIDES THE CRITICS DIVIDES THE CRITICS. IT CREEPS UP TO *9 BUT IS THE LAST TIME THE BAND WILL REACH THE TOP 10.
BY THE TIME "MY LOW KEY APPROACH" B/W "MY NAME IS BRIAN CLOUGH" IS RELEASED THE TIDE HAD TRULY TURNED, IT STALLS AT *28. IN THE BACKGROUND THERE ARE TALES OF BAND DIVISION AND INCREASED FRANZISKANER CONSUMPTION. THEY RECEIVE TERRIBLE PRESS WHEN THEY PERFORM "THE UNDERPANTS BOMBER" THAN THE PLANNED "SICK NOTE" ON THE LATE LATE SHOW. "NOW THAT WAS IN TERRIBLE TASTE FELLA'S", COMMENTS THE HOST, "WE WOULD LIKE TO APOLOGISE TO ALL OUR VIEWERS....." THEY WERE BANNED FROM RTE, BUT EVEN THIS IS NOT ENOUGH TO CATAPULT THEM BACK INTO PUBLIC FAVOUR. DESPERATE TO HAVE ANOTHER BIG HIT THEY RELEASE "AN EVERYTHING BUT THE KITCHEN SINK" CHRISTMAS SINGLE B/W "PETE MAJOR (LIVE)" BUT BY THIS TIME REILLY-STEWART IS NEVER IN THE STUDIO, MAJOR IS BUSY WITH SIDE PROJECTS, HICKS HAS GONE OFF TO FIND "HIM/HERSELF" AND ELLIOTT IS TRYING TO LAUNCH A SOLO CAREER. THEY START TO HAVE A GO AT EACH OTHER IN THE PRESS AND SPLIT UP BEFORE THE SINGLE PEAKS AT *59. THE MONEY EVENTUALLY  RUNS OUT AND THE MEMORIES OF 3D SHARK FADE.
"THEY COULD HAVE BEEN GREAT BUT THEY WEREN'T" SEEMS TO BE THE CONSENSUS AMONG FANS. OVER THE NEXT DECADE THE MEMBERS OF THE BAND ALL HAVE THEIR UPS AND DOWNS, MOSTLY DOWNS. MAJOR GOES UNDERGROUND AND THERE ARE RUMOURS THAT HE LIVES UNDER A SECRET IDENTITY. REILLY-STEWART GROWS BITTER AND REFUSES TO NEVER PLAY BASS AGAIN - NO ONE CARES. HICKS TRYS TO EMULATE HARRY JUDD AND JOINS STRICTLY COME DANCING BUT IS THROWN OFF THE PROGRAMME FOR PUNCHING CRAIG REVEL-HORWOOD. ELLIOTTS SOLO CAREER IS A DISASTER AND HE FINALLY GIVES UP CHASING THE DREAM MOVES TO THE COUNTRYSIDE AND PERSUES A LIFE OF FULL TIME  FISHING.
TWENTY YEARS ON THEY AGREE TO GET TOGETHER FOR ONE LAST TIME TO PERFORM A CHARITY CONCERT IN AID OF THE TERRI HOOLEY RETIREMENT HOME FEES. THEY MEET THE FANS, SIGN THE AUTOGRAPHS, POSE FOR THE PICTURES, LISTEN TO TERRI'S SPEECH, AND, THEN DISAPPEAR FOR GOOD........
HOWEVER THAT IS NOT THE END OF THE STORY IN 2016 TWO MIRACLES HAPPENED , THE NORTHERN IRELAND FOOTBALL TEAM QUALIFIED FOR THE EUROS AND TO CELEBRATE THE BAND , KEEN FOOTBALL FANATICS RECONVENED WITH LOCAL LEGEND JACKIE FULLERTON TO RELEASE "JACKIE SAYS ('IM IN HEAVEN WHEN WE SCORE)". IT WAS A HIT!! 
THE NORTHERN IRELAND LADIES FOOTBALL TEAM QUALIFIED FOR THEIR VERSION OF THE EURO'S IN 2022 AND WHAT HAPPENED,  3D SHARK OBLIGED WITH A SONG ENTITLED "A SONG FOIR EUROS" FEATURING NIAMH FROM THE HOLSTEINS ON VOCALS.
MIRACLES DO HAPPEN.............UNTIL THE NEXT TIME.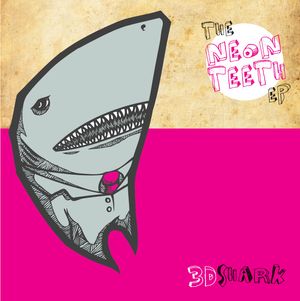 "in what could be the greatest musical collaboration since Tammy Wynette sang with KLF, my ridiculous band 3D Shark have teamed up with the legend that is Mr Jackie Fullerton MBE to record our tribute to the Northern Ireland footie team and their monumental acheivement in qualifying for the Euros.
It may not be the best song featuring middle aged chancers and the countrys greatest sports commentator , but we think it's in the top one"

Pete Major - Punk Pop Legend
"

The Germans and the Poles we'll crush like suasage rolls."
— Nicky Campbell to the nation on Radio Five Live from Marseille ahead of the Euros. Uh Huh , Oh Yeah!!