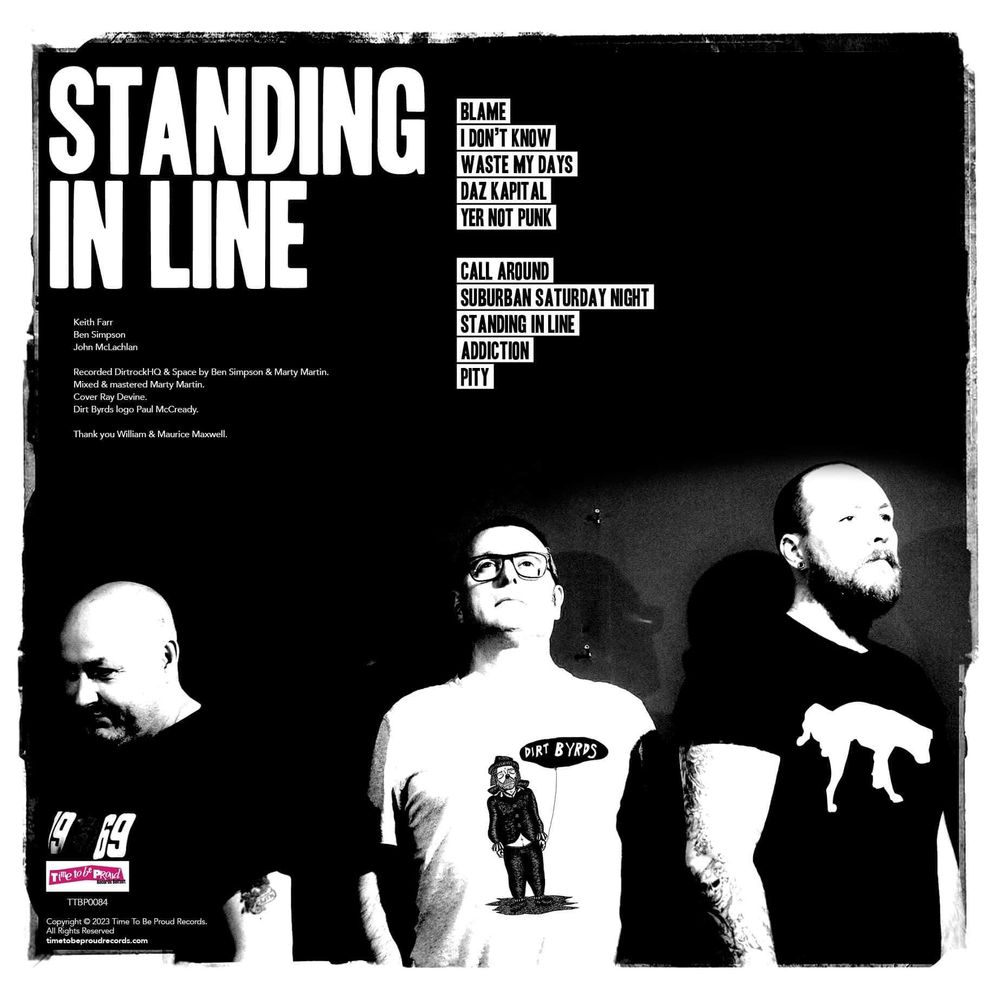 LOUDER THAN WAR VINYL ALBUM REVIEW
BANGOR'S DIRT BYRDS LONG AWAITED VINYL RELEASE IS FULL OF BANGERS AND ROUGH ROUND THE EDGES. PUNK ACROSS THE AGES IS THE COMMON INFLUENCE FROM GARAGE TO THE FIRST WAVE OF BANDS IN 1977 AND EARLY HARDCORE. THIS IS HOW DIRTY WORKING CLASS ROCK'N'ROLL SHOULD SOUND.
AS THE "IT'S STILL NOT OUT" MESSAGES FILTERED FROM DIRT BYRDS ABOUT YET ANOTHER DELAY TO THE VINYL RELEASE OF THIS ALBUM, THEY REVEALED IT HAD ALWAYS BEEN THEIR DREAM TO MAKE A VINYL LP. THEY WERE ON COURSE TO DO JUST THAT BUT THEN COVID CAME ALONG AND DERAILED THEM. THE PROBLEM WITH VINYL THESE DAYS IS DELAY AFTER DELAY. WHILE IT HAS COME OUT IN 2023, BY RIGHTS IT SHOULD REALLY HAVE COME OUT BEFORE THEIR LAST FULL LENGTH OFFERING, THE RAUCOUS "DIRT" (CD AND DOWNLOAD) ALBUM. THIS ALBUM IS ANOTHER IN A LONG LINE OF OUTSTANDING RELEASES FROM NORN' IRN - A RELATIVELY SMALL AREA THAT HAS ALWAYS PUNCHED WELL ABOVE ITS WEIGHT. IT HAS ALSO BEEN RELEASED ON A BELFAST LABEL THAT FOCUSES ON LOCAL BANDS. YOU CAN HEAR SOME OF THAT HERITAGE IN THE SOUND BUT IT IS DIVERSE DRAWING ON PUNK ROCK FROM THE USA WEST COAST AS MUCH AS BELFAST.
A FEW SECONDS OF FEEDBACK COUNT IN BLAME WHICH STARTS WITH A WHIZZY GUITAR IN A SONG THAT BLENDS FIRST WAVE PUNK, GARAGE AND A SPLASH OF Oi! JUST AS YOU PREPARE TO SETTLE IN, THINKING YOU KNOW WHERE THE RECORD IS GOING TO TAKE YOU, THEY FOLLOW IT WITH A HIGH OCTANE LITTLE HARDCORE NUMBER. "I DON'T KNOW'S" WHINY CHORUS SCREAMS KEITH MORRIS BLACK FLAG OR CIRCLE JERKS. "WASTE MY DAYS" IS A SOLID MID-PACED NUMBER WITH SHADES OF LEATHERFACE - VERY MUCH LIKE THE OLD NI BAND MONKHOUSE, WHO IT TURNS OUT GUITARIST AND SINGER KEITH WAS IN YEARS BACK. THE GRAVELLY, ALMOST-BUT-NOT-QUITE-TUNEFUL VOCAL ON THE CHORUS HAS SHADES OF JAKE BURNS' DELIVERY AND THE CRESCENDO ENDING THE SONG IN PURE SLF BEHAVIOUR.
BEFORE "DAZ KAPITAL" STARTS THE TITLE MAKES ME WONDER IF DARREN M KAPITAL WAS AN UNFORTUNATELY NAMED MATE OF THEIRS? PROBABLY NOT. THE DEAD PAN DELIVERED VOCALS INCLUDE LINES ABOUT "FUTURE TORIES" "CLASS TRAITOR" AND ANNOUNCE "WE DON'T LIKE YOU" WITH THE LEVELS OF SARCASM YOU"D EXPECT FROM SLEAFORD MODS. THIS RHYTHMIC TUNE HAS A GARAGEY FEEL ON THE VERSES DRIVEN BY A REPETITIVE GUITAR LINE, SWITCHING THE PACE OF THE SPRINT ON THE CHORUSES. THEY EVEN DROP A VERY GARAGE STYLE CLINKING CLANKING GUITAR SOLO.
"YER NOT PUNK" IS ANOTHER ROCK"N"ROLLING GARAGE INFLUENCED TUNE WITH PLENTY OF SWING ON THE DRUMS. AGAIN, IT'S A SONG THAT IS LED BY SURF STYLE GUITAR RIFF AND CHOPPY RIFFS ON THE CHORUS. WHOEVER THE SONG IS AIMED AT , THEY CLEARLY NEED BRINGING DOWN A PEG OR TWO AS KEITH SINGS "I WON'T KISS YOUR ARSE" THE BRIEF SOLO HAS A TOUCH OF THE JOHNNY THUNDERS ABOUT IT. HELL, THE WHOLE SONG HAS SOMETHING OF THAT HEARTBREAKERS APPROACH. YOU CAN CALL IT ROCK'N'ROLL BUT WE KNOW IT'S PUNK ROCK! IN SOME WAYS THE DIVERSITY OF SONG WRITING ON THIS ALBUM MAKES IT A BIT LIKE A JOURNRY THROUGH A NUMBER OF DIFFERENT ERAS OF PUNK. THIS IS NOT A BAD THING, BECAUSE IT'S ALL GOOD STUFF THAT COMES TO MIND.
"CALL AROUND" IS AN UNADULTERATED PUNK ROCK TUNE WITH A WONDERFUL ROVING BASS LINE AND A ROUGH EDGED GUITAR. IN KEEPING WITH THE SOUND IT'S ABOUT THAT TIME HONOURED PUNK SUBJECT OF HAVING NOWHERE TO GO. IF YOU HAD TOLD ME IT WAS AN UNDISCOVERED FIRST WAVE PUNK SONG FROM NI PIONEERS RUDI OR THE OUTCASTS OR EVEN AN EARLY SLF DEMO I WOULD HAVE SWALLOWED IT. ALL 3 OF THOSE BANDS HAVE SOMETHING OF A SHARED SONIC DNA. KEITH'S GRAVELLY VOCALS ALMOST BREAK AT TIMES ON THOSE CHORUSES IN SIMILAR FASHION TO THE AFOREMENTIONED JAKE BURNS. FAIR PLAY FOR TRYING TO HIT THOSE NOTES AND SUCCEEDING.
"SUBURBAN SATURDAY NIGHT" IS A BOUNCY NUMBER IN A FAST PUNK STYLE THAT BANDS LIKE 999, THE TOY DOLLS OR IN LATTER DAYS THE BRIEFS MANAGED TO PERFECT - EXCEPT WITH THOSE GRAVELLY VOCALS ON THE VERSES IT IS A BIT MORE ROUGH ROUND THE EDGES. POGO-TASTIC!
"STANDING IN LINE" (ABOUT ANOTHER PUNK ROCK STAPLE,SIGNING ON THE DOLE OFFICE) IS ANOTHER PUNCHY NUMBER WITH HINTS OF HARDCORE. THE EXASPERATED SINGING ALMOST REACHES A SCREECH. THE DESCENDING SINGLE STRING GUITAR IN THE MIDDLE 8 REALLY UNDERLINES THAT EARLY HC SOUND.
"ADDICTION" IS ANOTHER NUMBER THAT SITS PERFECTLY WELL WITH THE NORTHERN IRELAND PUNK ROCK TRADITION, AND ALSO FEATURED ON THE "DIRT" ALBUM. IMAGINE A 4 SKINS RIFF BEING PLAYED BY A GARAGE BAND. THE DROP OUT TOWARDS THE END OF THE SONG REVEALS A BEAUTIFULLY CHUNKY BASS SOUND. "PITY" IS A TAD SLOWER THAN MOST OF THE SONGS ON THIS RELEASE BUT HAS ALL THE DIRT YOU'D FIND IN A FILTHY GARAGE.
THE CD VERSION HAS 4 ADDITIONAL TRACKS DRAWN FROM PREVIOUS EP" CONTINUE IN A SIMILAR VEIN OF DIRTY WORKING CLASS ROCK'N'ROLL WITH ROVING BASS LINES AND BUZZY GUITAR TONE WITH BENDY STRINGS AND GRUFF VOCALS. "SOMETIMES I WONDER" COULD BE ABOUT THE PAST (AND OCCASIONALLY RESURGENT) DIVISIONS IN NORTHERN IRELAND BUT APPLIES EQUALLY AROUND THE GLOBE. WISTFUL DAY DREAM MEETS STREET POLITICS : "SOMETIMES I WONDER, HOW AMAZING IT WOULD BE, TO LINE UP POLITICIANS AND SHOOT THEM DEAD ON THE STREET." "YESTERDAY" HAS A WONDERFULLY WOODY BASS LINE THAT AGAIN HAS ME TRYING NOT TO ASSOCIATE THIS BAND WITH SLF AND FAILING.
NATHAN BROWN - LOUDER THAN THE WAR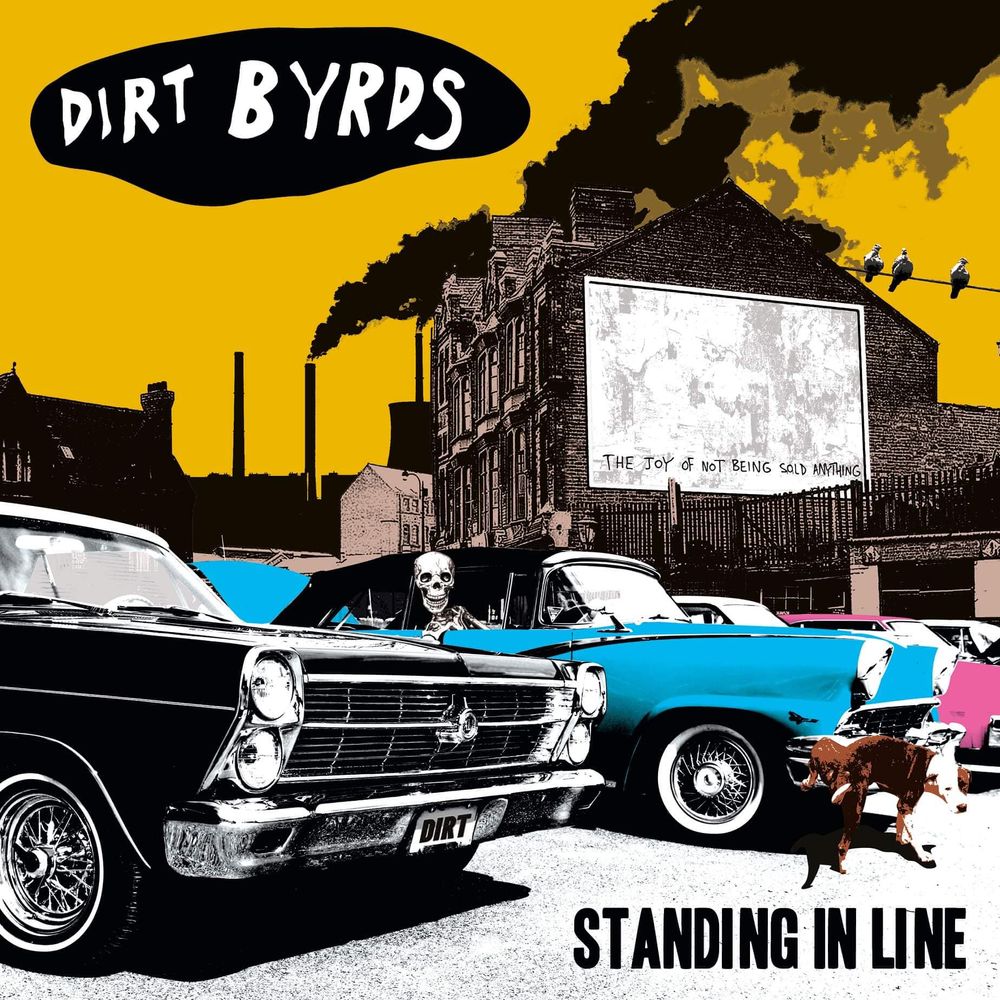 STANDING IN LINE MAKES THE BEST ALBUM LIST FOR THE NI MUSIC PRIZE 2023.
AWARDS ARE HELD IN NOVEMBER.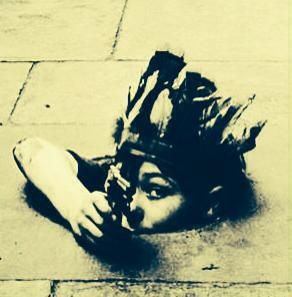 "

"Brutalist, garage rock played with an authentic scowl. No messing with the primary colours or the pivotal chord shapes. Guaranteed to please admirers of The Cramps and other psyche-rumblers.""
— Across the line - Radio Ulster
FORMED DECEMBER 2014- IN THE PAST - KEITH : MONKHOUSE, RUNNIN RIOT - JOHN : LOCAL BAND PROJECTS TOO MANY TO MENTION - BEN : VARIOUS LOCAL BANDS
DIRT BYRDS FIND INFLUENCE IN THE DIRTY WATER OF ROCK'N'ROLL HISTORY, IT'S NOT ABOUT INVENTING THE WHEEL, ITS ABOUT KEEPING THE WHEEL OILED , IT'S ABOUT PLAYING OUR PART IN THAT SOUNDTRACK.....LEAVING OUR MARK.
DIRT BYRDS ANSWER TO NO-ONE, THERE'S NO PLAN, THERE'S NO MONEY, IT'S ALL DIY, ON THE WING.