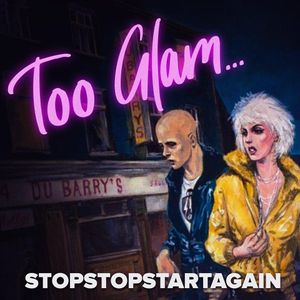 TIME TO BE PROUD RECORDS RELEASED STOP STOP START AGAIN'S FIRST EP "SERGE" TO CRITICAL CLAIM AND HEALTHY  SALES IN 2012. THEIR SECOND EP "DENIM BOYS" WAS RELEASED IN 2013, A TRIBUTE STOMP TO THE BOOTBOY CULTURE OF THE LATE 70'S ENHANCED THE BAND'S REPUTATION TEN FOLD. THE BAND RELEASED THE EP IN TOKYO, JAPAN AND TOURED  CONSTANTLY IN THE UK AND IRELAND PERFECTING THEIR SOUND AND INCREASING THEIR FAN BASE.
THE BAND PLAYED WITH MANY OF THEIR HEROES - EX SEX PISTOL GLEN MATLOCK, RUTS DC , 999, PENETRATION, EDDIE AND THE HOT RODS, THEATRE OF HATE, AND LOCAL HEROES THE OUTCASTS AND THE DEFECTS.ONE OF THE HIGHLIGHTS WAS SUPPORTING HOLY HOLY FEATURING WOODY WOODMANSEY A KEY MEMBER OF DAVID BOWIE'S SPIDERS FROM MARS. AFTER THE GIG THE BAND AND HOLY HOLY DID AN IMPROMPTU ACOUSTIC SET IN HOLY HOLY'S HOTEL. PAUL WAS IN HIS ELEMENT , A DUET WITH LISA RONSON (MICK RONSON'S DAUGHTER - SPIDERS FROM MARS CONNECTION AGAIN) ON "ALL THE YOUNG DUDES" SUBLIME.
THEIR THIRD EP "WHY DO CHICKS DIG VAMPYRES?" WAS RELEASED HALLOWEEN 2015 AGAIN TO VERY HEALTHY SALES RIGHT ACROSS THE GLOBE. THE BAND SPENT THE NEXT FEW YEARS WRITING AND RECORDING SONGS FOR THEIR DEBUT ALBUM AS WELL AS PLAYING MORE LIVE GIGS AROUND THE COUNTRY. THEIR LAST LONDON GIG WAS AT THE FAMOUS HOPE AND ANCHOR.  THEIR LAST GIG WAS MARCH 1ST 2019 WITH THE OUTCASTS IN ANTRIM.
SADLY PAUL PASSED AWAY IN MAY 2019 AS A RESULT OF CANCER. HIS BANDMATES AND FRIENDS COMPLETED THE DEBUT ALBUM "TOO GLAM TO GIVE A DAMN". IT WAS RELEASED IN NOVEMBER 2019  AND LAUNCHED AT A TRIBUTE GIG TO PAUL, RAISING A CONSIDERABLE AMOUNT OF MONEY FOR LOCAL CANCER CHARITIES.
THE ALBUM WENT ON TO RECEIVE MANY PLAUDITS INCLUDING THE BEST DEBUT ALBUM FROM ANY LOCAL NORTHERN IRELAND BAND IN THE LAST 20 YEARS - A FITTING TRIBUTE.
THE REST OF THE BAND HAVE CONTINUED THEIR MUSICAL ADVENTURES WITH FLETCH,  WILLIAM AND GEORGIE INVOLVED IN THE CUPBOARD 55 PROJECT RELEASING A DEBUT EP "EXHIBIT" WITH IAN LIVINGSTONE.
FLETCH AND WILLIAM HAVE NOW FORMED THE GOON SQUAD WITH GEORGE BEAVIS,  PETE STEVENSON AND CLIFF MASON. THEY  HOPEFULLY WILL BE PLAYING A LOCAL VENUE NEAR YOU SOON. A DEBUT EP IS BEING RECORDED AT PRESENT FOR FUTURE RELEASE.
GEORGIE RAMONE IS NOW A VERY SUCCESSFUL ALTERNATIVE CABARET ACT WITH HIS PARTNER MAIYA MOO UNDER THE SIN CITY SIDESHOW.