LOS REYES THE DEBUT ALBUM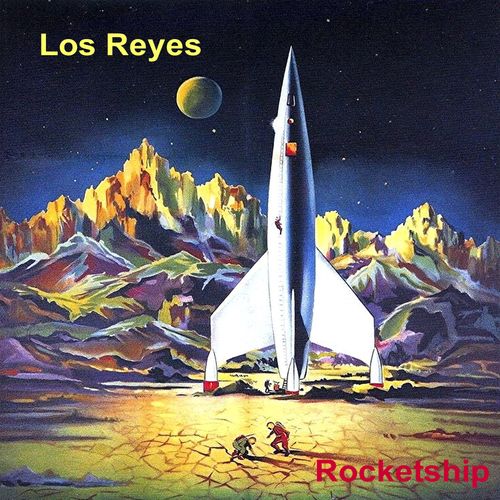 COMING SOON THE NEW FOUR TRACK EP FROM LOS REYES "ROCKETSHIP"

                                                                                                                    LOS REYES

Members : George Beavis (Head Huncho) - Guitar , Louie Steele - Drums ,  Ryan Fitzsimmons - Guitar ,  Chris McCrory

Hometown .... Belfast

Genre ..... File under Excellence

Instrumental Surf bands were once considered cool or cutting edge in the 50's early 60's but like most music it seems its time to go full circle. Now Los Reyes , a Belfast band are helping to bring back early "60's surf rock". It's odd to think that a group based in Belfast would be the ones to update that particular sound for the 21st - century, but here we are.

George Beavis is the main hunch playing all the instruments on their debut album with the help of Louis Steele on drums. The band have already played a few live shows with the addition of Ryan Fitzsimmons on guitar and Chris McCrory on bass to enthusiastic audiences and critical acclaim.

Not ones to sit on their laurels the band have already started to work on their follow up.

The bands influences may tip their hat to those bands of another era like The Ventures, Dick Dale and even The Shadows but Los Reyes are Belfast's 21st Century Tarantino soundtrack.
Belfast Surf City, who'dda thunk it? Los Reyes offer up 10 scintillating surf instrumentals on this, their debut album on the Time To Be Proud label. Los Reyes roughly translates as The Kings, quite apt in this case as these guys are kings of reverb and twanging guitars. Listening to tunes such as Mile Zero, Avante, Bahia Honda, Shark Fin and El Malo, to name just a few, will transport you back to a more carefree time. A time of California sunshine, golden sands, riding the waves, surf boards, beach parties, bikini clad beauties, cold beer, B movies, cadillacs and pontiacs, or in our case - a day trip to Portrush, a stick of rock, candyfloss, a ride on the dodgems, a paddle in the cold sea at White Rocks and a bag of chips on the East Strand! As far as debut albums go this is top notch, packed with killer tunes and a real feelgood factor. A readymade soundtrack for the long hot sunny days ahead. Now, where did I put that Hawaiian shirt? 

NI Punk Website 2016


"Just when you need some surf guitar, it appears in Belfast"

Michael Bradley (radio Ulster/Undertone)